Keep Those Elders Laughing
Details

Published on Monday, 03 September 2012 13:34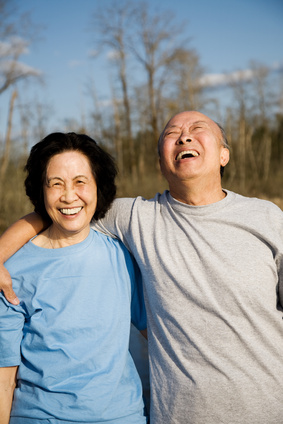 There are great benefits to laughter – younger or older people! For years researchers have been exploring the connection between humor and healthy aging. So what have they discovered thus far?
Laughter is a great stress buster with physical evidence to prove it. When you laugh, good brain chemicals are released. They help your body overcome the bad brain chemicals that are caused by stress.


Because humor helps relieve tension and stress, it can also help lower blood pressure. Healthy blood vessels can help to prevent strokes and heart disease.


A good laugh with family and friends helps build bonds. Having strong personal relationships are known to be one of the keys to successful aging.


Laughing helps to promote a healthy immune system. Studies have shown that a good laugh can help increase infection fighting antibodies that in turn, boost your immune system.
How can we help the older adults in our lives laugh keep laughing?
Understand that as we age, we sometimes don't process information quite as quickly. That means older adults are more likely to get a good chuckle out of slapstick humor than they are from sarcastic humor.


Send them funny pictures and links to humorous sites. For example, share the humor page on The Senior Ark website (http://www.seniorark.com/Humor/humor.htm) with them. Email them a "funny photo of the day".


You can also search YouTube for "funny senior citizen videos" to find videos like this one http://www.youtube.com/watch?v=dIsLsDXXJUE of three senior citizens imitating Michael Jackson in his Billie Jean video.


Learn more about Laughter Yoga and find (or start!) a program in your area. Gaining in popularity in senior living because it can be performed while seated, it is a combination of laughter and yogic breathing. Visit them at: http://laughteryoga.org/.
Still want to learn more about laughter and healthy aging? Dr. Brad Nieder, also known as The Healthy Humorist, has some entertaining and educational videos on YouTube. You can watch them here: http://www.youtube.com/watch?v=7cxgjNA2fNw
Have any suggestions for us on how to laugh more? We're looking for ways to improve our laugh life!