5 Brain Games to Boost Your Memory
Details

Published on Wednesday, 16 March 2016 19:53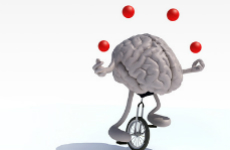 We all know that exercise is important for the body. What you may not realize is just how important it is to exercise your brain. There are many ways you can exercise your brain to improve memory. Learning new languages and skills, are certainly effective, as is learning to play an instrument or learning to sing new songs. But, did you know that there are other games and activities that are fun, entertaining, and effective at boosting memory? These five brain games are prime examples.
1) Memory Card Games
While many adults hesitate at the idea of playing "children's games," there are Memory Card games designed specifically for adults. Memory Jogging Puzzles offers memory card brain games with a Norman Rockwell or Sarah Stillwater Weber theme that are as nostalgic as they are fun.
2) Chess
A daily game of chess will go a long way towards exercising your short-term memory. Short-term memory is where you store all those strategies that are necessary to not only improve your game, but to win, time and time again. Consider playing against multiple partners rather than facing off with the same partner every day, as this will force your brain to behave differently with different opponents.
3) Bejeweled
Modern technology can help in your efforts to boost your memory in the form of video games and game apps. One popular game that helps build concentration, analytical abilities, and visual perception is Bejeweled, by PopCap Games. There are many variations available as well to help switch things up.
4) Luminosity
Yet another online game or app that offers impressive results for not only improving memory, but also for stimulating the brain. The effects of Luminosity have been impressive, according to Alzheimers.net, as there are more than 60 million people around the world using it.
5) Cooking Classes
While not exactly a brain game, EveryDay Health recommends cooking classes for boosting memory, as cooking stimulates and requires the use of many senses including taste, touch, sight, smell, etc. – all of which involve the use of different parts of the brain.
These activities, when used daily, will help you exercise your brain and keep your senses sharp. Try them for yourself and see what a difference they make in your short-term memory.
Are you caring for a loved one who has memory problems, dementia, or Alzheimer's? Fall River Jewish Home's Respite Care Program is a great option to provide short-term, safe care for your loved one on a temporary basis.