Top 5 Heart Healthy Diet Tips For You And Your Loved Ones
Details

Published on Wednesday, 17 February 2016 17:52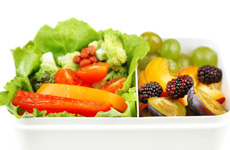 A big threat on your senior parent's health is heart disease. In fact, over 42 million people who have cardiovascular disease are 69 or over, according to the American Heart Association. The risk for heart disease increases with age. To protect your elderly parent, you can help them make heart-healthy diet and lifestyle changes. Below are 5 heart healthy diet tips that your loved ones (and you) can practice.
1) Encourage Them to Shop for Colorful Fruits and Veggies
These are high in fiber, vitamins, and minerals and low in calories. A minimum of five servings each day is what your senior loved one should be getting.
2) Insist They Stop Buying High Fat Meat and Dairy
They should be buying lean and skinless cuts of meat that have minimal fat. A good rule of thumb is if the meat has 'loin' after it (tenderloin, sirloin, etc.) they are usually leaner cuts. They should buy ground meats that have less than 20 percent fat regardless if it's beef, chicken, pork or turkey. Milk, cheese, yogurt and other dairy products should be at least 2 percent 'reduced fat'; less is better.
You definitely want your senior parent to eat plenty of fatty fish (two servings each week of trout, salmon or other oily fish). These types of fish can help lower their risk of getting heart disease and increase the levels of healthy omega-3s in their body.
3) Encourage Them to Control Their Portions
The amount of food they eat is just as important as what types of food they eat. When they overload their plate, reaching for seconds or eating until they stuff themselves, this results in them eating more calories than they should.
4) Have Them Reduce their Sodium Intake
Too much sodium could contribute to high blood pressure which is a cardiovascular disease risk factor. As part of keeping their diet a heart-healthy one, they should reduce their sodium intake. According to The Dietary Guidelines for Americans 2010, it is recommended that people over the age of 51 consume no more than 1500 mg of sodium.
5) Have Them Read Nutrition Labels
Having your senior loved one drink herbal teas instead of sugary drinks like fruit juice or soda can help reduce their sugar intake. However, it's too simple for manufacturers to sneak in salt, particularly in prepared foods. Therefore, it's important that they read all nutrition labels.
Eating healthy will take a commitment, but it's not as hard as you think. Even these tips alone will help your senior parent with their heart-healthy eating. By talking with your parent and coming up with a doable plan, you can have them eating with their heart in mind.
Eating right is a part of healthy aging. Contact Fall River Jewish Home to learn more about care services and lifestyle activities.