6 Tips To Stay Active Indoors This Winter
Details

Published on Wednesday, 03 February 2016 18:05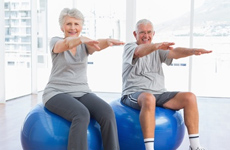 As it gets colder outside, going outdoors can become more difficult and you will probably be less motivated to do so. However, dropping temperatures shouldn't mean that you can't get your exercise. Even just 30 minutes a day of activity can help control high blood pressure, diabetes, and the effects of heart disease. It can also maintain the integrity and flexibility of your muscles as you age. So, what easy indoor activities can you do this winter? Below we outline six. Discover what works best for you!
1) Indoor Walking Clubs
Indoor walking is a popular activity for senior adults since it provides protection from the weather, safety, and companionship while walking. A popular option is mall walking. There are often 'walking clubs' that meet up before the mall opens; however, you can walk the mall anytime of the day and get the same benefit.
2) Exercise Your Brain
Your body is not the only thing that requires exercise to expand and grow. Your brain also needs exercise. You can exercise your brain with things like scrabble, crossword puzzles, and Sudoku. You can even enhance your mind while exercising. There are racks on many stationary bikes that hold magazines or books which allow you to stimulate your brain while you workout your body.
3) Marching in Place
This is an easy exercise that doesn't require any equipment to do it. Start out slow and work your way up to a set of repetitions that you are comfortable with. If you can do ten comfortably, start with that and add in more repetitions over time.
4) Put in a Fitness Video Game
Today, there are handfuls of video games that are designed to keep you active and moving. For example, Wii Fit offers an array of virtual sport activities to keep you moving and off the couch.
5) Join a Gym
Working out in a gym is a perfect way to keep warm and stay active at the same time. Many gyms provide classes for all age groups to meet your specific fitness goals.
6) Restorative Activities
Restorative activities like tai chi, yoga, and qigong help to build flexibility, strength and even help you relax. It's a great way to improve your stamina and refresh your energy during the winter.
No matter which activity you pick, you will learn to stay flexible and fit in both body and mind. With a little creativity and a positive attitude, you can enjoy your winter months, make new friends and get your exercise!
Interested in learning about the kinds of activities and events held at Fall River Jewish Home? Contact us at 508.679.6172 to learn more.