3 Activities to Help Keep You Active Indoors
Details

Published on Tuesday, 20 October 2015 12:39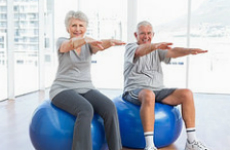 Staying active when the weather outside is downright unpleasant if not brutal and can be difficult for many aging adults. Even if the desire to be active or get out and do things remains, the will often wilts under the heat of a blazing sun or once the winds of winter begin to howl. These activities will help you or an aging adult you love remain active indoors regardless of weather conditions outside.
3 Indoor Exercise Ideas
1) Join an Indoor Exercise Program
Many mid-sized and large cities have malls that offer a mall walkers program of some sort. These programs allow interested parties to walk the mall for exercise. The beauty of exercising in the mall is that you get to meet other people doing the same thing — so it becomes a social activity as well as one for fitness.
The other benefit is that there are benches located strategically throughout the walking area for quick breaks, and most malls offer clearly marked paths for walking, including mileage notices. Keep in mind, that it's best to walk in the mall before the shopping traffic gets heavy. This often means walking early in the morning. In addition, if your mall walking finds you frequenting the food court, be careful to choose healthy food options.
2) Participate in Music and/or Dance Lessons
Learning to play an instrument does double duty for aging adults. There is research to indicate that it helps ward off the onset of conditions, such as dementia and Alzheimer's disease.
Second, it's fun! People who have fun frequently are much younger at heart than those who fall into routines of doing the same old thing. Dance lessons are another great idea. We're not talking the hot Latin dances, but things like basic line dancing and square dancing that are fun and fit.
3) Take an Ongoing Fitness Class
Fitness programs, like Tai Chi, Yoga, and Brain Body Fit/Senior Fit by T-Tapp, offer gentle exercise and movement designed to improve balance, increase circulation, and keep adults fit without high impact exercises.
Keeping active is important for all adults. It takes on new importance for aging adults, as does getting out and being social. For those who are homebound or not as mobile as others, board games, crafty hobbies, and fishing never go out of style.
Instead of allowing yourself to become burned out caring for your loved one, consider the adult day care program or respite care at Fall River Jewish Home. Call 508-679-6172 to learn more about the program and get the break you deserve.