Keeping Your Independence with Medical Alert Systems
Details

Published on Thursday, 03 September 2015 12:58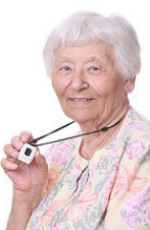 As a child or a young adult, when you slip and fall, you can usually get up and brush yourself off without being any worse for wear; however, as you age, a slip and fall can often lead to a trip to the hospital – or worse.
According to the Center for Disease Control, millions of people aged 65 and older fall each year, and these falls can result in pretty serious (and even life-threatening) injuries. The statistics related to falls among the senior population are actually quite alarming:
Falls remain the primary cause of nonfatal and fatal injuries among older adults.

2.5 million older adults suffered nonfatal falls in 2013.

The majority of fractures experienced among older adults are the result of falls, including fractures of the spine, leg, hip, forearm, ankle, pelvis and hand.

Falls are the leading cause of traumatic brain injury among older adults.
Preventing Falls and Keeping Your Independence
Falls are not only responsible for causing serious injuries, they can also make older adults fearful of doing certain activities. For that reason, many older adults choose alternative living options in places such as Fall River Jewish Home. Occasionally, family members determine that this living arrangement is the best way to keep their loved ones safe, too.
However, this doesn't have to be the answer; you can still enjoy independent living in Massachusetts while protecting yourself from the possible injuries that falling can cause. How? By seeking in-home care and using a medical alert system.
The Benefits of Medical Alert Systems for Independent Living
If independent living in Fall River, Massachusetts is something that you wish to maintain during your retirement years, a medical alert system can keep you safe and secure. Here's a look at some the biggest benefits:
You'll be able to get help when you need it. Should you slip and fall, or experience any other type of emergency, you will get the help you need, and quickly. Medical alert systems are monitored 24/7, which means that if an emergency occurs, dispatchers and family members will be alerted immediately and you will receive the help that you need.

These systems are easy to use. They are usually worn on the wrist or around the neck. With the push of a button, you will be able to immediately communicate with someone who has the ability to get you the help that you need.

You'll have peace of mind. You won't have to be afraid of falling or suffering from any other medical emergency because you'll have the help you need, if and when you need it.
Do you use a medical alert system? Do you feel like it has allowed you to remain independent? Please share in the comments below!
If you're interested in the living options available at Fall River Jewish Home, please contact us today at 508.679.6172. We look forward to speaking to you!