End of Life Care for Alzheimer's Disease
Details

Published on Monday, 20 May 2013 20:31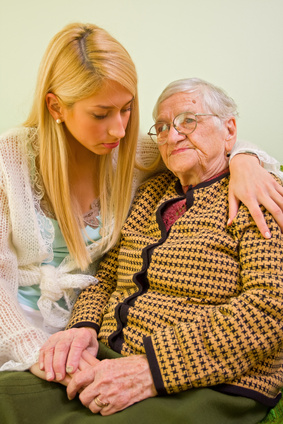 Alzheimer's disease is one of the only diseases in the U.S. where the number of deaths are increasing instead of decreasing. It has grown to be the 5th leading cause of death in our country. But according to the Journal of Pain and Symptom Management, only 10% of the hospice deaths each year are for a diagnosis of Alzheimer's disease. Why are those numbers so low? Experts believe it is because physicians struggle with determining when it is time to refer a patient to hospice.
80% of hospice care is paid for by Medicare. To be eligible for hospice under the Medicare benefit, a physician must certify that if the disease takes its natural course, the patient will have six months or less to live. That is what primary care physicians have difficulty determining. Because patients have typically lost their ability to communicate by the later stages of Alzheimer's disease, physicians are often reluctant to make a referral to hospice.
The Medicare hospice eligibility for Alzheimer's patients is what most hospice providers use as their standard regardless if the patient is a Medicare patient or a private insurance patient.
The criteria they consider when determining eligibility is:
· Does the patient have a physician diagnosis of Alzheimer's or an advanced form of a
related dementia?
· Is the patient unable to dress, bathe or walk on their own without assistance?
· Are they incontinent of bowel or bladder? Is that incontinence intermittent or
constant?
· Do they have any meaningful verbal communication? The typical threshold is the
ability to speak more than six words.
· Have they been hospitalized or treated for one or more of the following conditions
within the last 12 months: aspiration pneumonia, urinary tract infection, septicemia, pressure ulcers, fever (recurrent after antibiotics) or unintentional weight loss (= or > than 10%) or low serum albumin (< 2.5 gm/dl)?
If, after you review this list, you believe your loved one may be eligible for hospice care, you may want to consider calling their primary care physician for advice and guidance. You can also call
your local hospice provider to learn more about eligibility. They may be able to coordinate a referral from your loved one's primary care physician on your behalf.
Is your family considering hospice for a loved one with Alzheimer's? Has your physician helped you decide if they are eligible?
We're here to answer questions and help you make the best decision for care for you or your loved one. We invite you to reach out and talk with one of our care specialists at Fall River Jewish Home today! CALL 1.508.679.6172, where assistance is just a phone call away.