Give Yourself a Break
Details

Published on Monday, 17 September 2012 20:30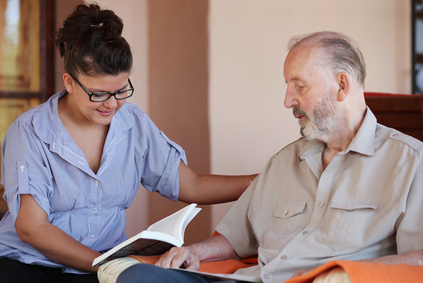 So how can you - as a caregiver -give yourself a break without putting your loved one at risk? Caring for a friend or family member with a physical or cognitive impairment can really take a toll. Mental and physical burnout often leads to health problems for the caregiver. In fact, caregivers put their own health at risk when they don't accept help and take breaks from caregiving. Risks include everything from increased cholesterol to diabetes to diabetes and heart disease.
There are both formal and informal ways of getting help.
Informal Respite Options:
When a friend or family member asks if there is anything they can do to help, say YES. Let them sit with your loved one for a few hours while you take a break. Caregivers often struggle with this. Instead, look at this break as something you need to do regularly to help you provide better care for your family member.
If you belong to a church or religious organization, find out what resources they may have available. Many churches have volunteers who help act as friendly visitors for shut-ins.
Call your local agency on aging. They may have a list of organizations in your area that provide no cost or low cost respite services.
Paid Respite Providers:
Private duty home care agencies can come in to your home and care for your family member in their own familiar environment. Call a few local agencies to see what they offer, how much they charge, how long they have been in business and what kind of background checks they run on their caregivers. Before you make a decision on a provider, meet with them in person.
Consider an adult day program. These services are typically operated by area non-profit organizations like The Alzheimer's Association or a local church. Many offer transportation to and from their location on handicapped accessible buses and vans.
Don't overlook your local assisted living community. Some of these also offer respite programs that allow your loved one to stay at the community for up to one month. Costs can be fairly reasonable and Medicaid may cover respite stay costs in some states.
Still have questions? The National Respite Network has a free guide you can download that may help. You can find it here: http://archrespite.org/images/docs/The_ABCs_of_Respite_for_Family_Caregivers_Updated6_12.pdf.
Has your family come up with a way to give the primary caregiver frequent breaks?
Please share what you've learned!