7 Things Every Caregiver Should Know About Dementia
Details

Published on Wednesday, 08 June 2016 20:45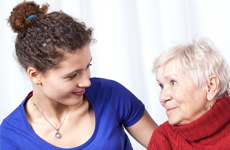 Providing day-to-day care for someone with dementia is often a series of highs and lows. There are moments that are filled with sorrow and others that are life-affirming. Some moments are a bit of both. Whether you're a family member, adult child, friend, or health care professional, you need to know these seven things about yourself and your role.
7 Things You Need to Know
1. It is okay, even necessary, to ask for help.
This role is hard. It doesn't simply take a hard physical toll on the body, but an emotional toll as well. When you're beginning to feel the effects through stress, physical health, or just needing a moment to yourself, don't hesitate to ask for help. In fact, don't wait until it gets to that point. Ask for help frequently and take a break. You deserve it, and it will make you an even better caregiver for having that necessary respite.
2. Distract and redirect are the words of the day every day.
These are the most important concepts you can hold dear as someone tasked with caring for a dementia patient. Changing the subject, environment, or even menu can help avoid major meltdowns.
3. There is support available for you, and you need it.
No man (or woman) is an island when it comes to caring for a patient with dementia, though some days it feels like you're alone on one. Reach out to the support that is available, so you don't feel so alone.
4. It's okay to allow dementia patients to live in the moments they are in.
You do not always need to bring the patient back to the here and now. In fact, when they are remembering a loved one in the present tense, it may force them to experience the pain of that loss anew.
5. It is your job to discuss the patient's reality to the doctor.
Don't let doctors make false assumptions. You're with the patient every day and know more about the reality of the patient's condition than the doctor does in many instances.
6. Learn the signs of your frustration and when you need a break.
There will be moments of frustration, and while you can't just walk away, you can call in reinforcements.
7. Accept that perfection is impossible.
It's impossible to be a perfect caregiver for someone with dementia. There simply isn't one. All you can really do is care and try to provide the appropriate care for your loved one or patient each day.
Caregiving for dementia patients can be a roller coaster ride, but learning to forgive yourself and your charge for what happens can make it a thrilling ride for both of you on the good days and even on some of the bad days.
If you're a caregiver of a loved one who has dementia and are looking for help, call us here at Fall River Jewish Home at 508.679.6172 to learn about respite care and other assistance options for your loved one.