8 Kosher Foods that Fight off Dementia
Details

Published on Thursday, 21 April 2016 19:12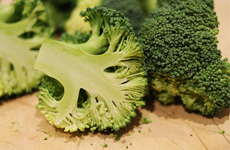 A kosher diet offers more health benefits than may at first be obvious. From designating portion sizes and specifying the way food is to be prepared to identifying foods that should be included or excluded in the diet, kosher menus have a lot to offer from a health perspective. These kosher foods can even help fight dementia.
1. Cruciferous Vegetables. Foods like bok choy, broccoli, Brussels sprouts, cauliflower, and kale are rich in folate and carotenoids that are believed reduce an amino acid associated with cognitive impairments called homocysteine.
2. Beans and Legumes. These dietary wonders are rich in choline, which is a B vitamin known for boosting neurotransmitters in the brain that improve brain functioning.
3. Salmon, Cod, Tuna, Herring, and Mackerel. Fish are brain food. These fatty fish are kosher approved and rich in omega 3 fatty acids known for reducing inflammation. UCLA researchers have discovered a correlation between lower omega-3 levels and poor performance on memory tests (along with brain shrinkage), according to AARP.
4. Turmeric. This flavorful spice does a little more than add a bit of zip to your menu. It can also help to break up brain plaque while also reducing brain inflammation.
5. Berries. In addition to the many other benefits berries offer, they may also be instrumental in protecting glial cells. Alzheimer's researchers believe these cells help to remove toxins from the brain that contribute to Alzheimer's disease.
6. Eggs. In addition to being an excellent source of protein and countless other nutrients, Daily Mail reports that eggs are essential for improving cognitive function, thanks to being rich sources of zeaxanthin and lutein.
7. Leafy Greens. Foods like spinach, turnip greens, and asparagus are high in folic acid and vitamin B9. Both of which improve cognitive function and serve to reduce the risks of developing Alzheimer's disease.
8. Olive Oil. Olive oil contains oleocanthal, which is believed to protect the brain from brain plaque, which has been associated with the development of Alzheimer's disease.
Whether or not you follow kosher traditions faithfully in your home, these kosher foods that fight dementia are good ideas for anyone interested in avoiding, preventing, or slowing the progression of dementia and Alzheimer's disease to keep on the menu.
Fall River Jewish Home, with a foundation rooted in our cherished Jewish beliefs, cares for residents and families at our skilled nursing and rehabilitation. We offer personalized care for the whole person -- spiritually, emotionally, and physically. We invite you to talk with one of compassionate care specialists today. Please call us here at Fall River Jewish Home at 508.679.6172.