Explaining Purim: Plainly and Purely
Details

Published on Wednesday, 27 May 2015 13:20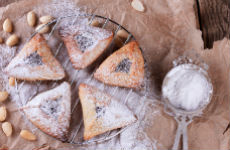 Purim, celebrated in March each year, is one of the most joyful holidays in the Jewish calendar, commemorating a time thousands of years ago when they were saved from extermination in Persia. The story is retold in the Book of Esther.
A Story with a Heroine and a Hero
Esther is the heroine, beautiful and pure as befits one. Her cousin Mordecai, who raised her, is the hero. The villain is Haman, the arrogant advisor to the King.
Haman plots to massacre the Jews because he hates Mordecai, a feeling which he has extended to all Jewish citizens. Esther, at first, hides her background from the king, who has fallen in love with her.
After many travails, brave Esther champions the Jewish population in a talk with the king. Her people are saved and Haman gets his comeuppance.
Purim Customs
A two-day feast, Purim starts off with a minor fast (called the Fast of Esther) to commemorate the heroine's fast before she addressed the king. The feast is marked by reading the Book of Esther, with much hissing and stamping of feet when the name Haman is mentioned.
Purim is the original eat, drink and be merry holiday. The Talmud says that a person should "drink until he cannot tell the difference between 'cursed be Haman' and 'blessed be Mordecai."
It is also the custom to share the good feeling with others by making gifts to charity. In keeping with the carnival atmosphere, plays, parodies and beauty contests are typically performed during Purim. It has been called the Jewish Mardi Gras by some.
Celebrating Purim
Families usually schedule time to hear the complete story of Esther and Mordecai by reading the Megillah, which includes the Book of Esther. This custom is also part of the holiday at facilities like Fall River Jewish Home in Massachusetts.
At least two coins are dropped in a donation box for tzedakah, or charity. A festive meal with family and friends includes telling stories and singing songs. Gifts of food are cooked, baked and delivered to friends and charities. Fruits, candies, cookies and juice are also popular. If you are looking for healthy suggestions for your kosher menu, the Jewish heritage site Aish.com has several, including a Purim Purple Cabbage Salad.
This is the type of eating favored by Jewish geriatric services, concerned with the health of their clients. Aish.com and other Jewish-oriented websites have a number of recipes appropriate for Purim, including a tomato salad with dill and a sprout and mushroom salad. Especially made for the day is Simchah Chicken Stir Fry—simchah is for happiness, joy and gratitude.
Let us know how you and your family celebrate Purim in the comments below!