The Kabbalah of Nutrition
Details

Published on Wednesday, 03 December 2014 14:48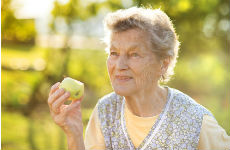 In our work with aging adults in the greater Boston area, nutrition often comes up. Older adults with chronic health conditions may struggle to prepare meals and find transportation to and from the grocery store. Yet as we grow older, nutrition becomes more and more important. While most seniors require fewer calories because their lifestyle is typically more sedentary, they often require more of some vitamins and minerals than they did when they were younger.
As we head into the winter months, we thought it was important to share a few nutrition-related resources with our senior readers and their caregivers. We also wanted to include some interesting information for our Jewish friends on the Torah's teachings on nutrition and the elements each person needs to survive.
The Torah on Needs, Nutrition, and Food
In an interesting article by Yitzchak Ginsburgh on The Jewish Woman website, the issue of needs is discussed. According to Ginsburgh, the Torah classifies the basic needs of every human being into the following five categories:
Air

Water

Food
Clothing
Shelter
Ginsburgh tells us that "food represents ingestion and integration of external nutrients into our internal being. In the psyche, the integration of spiritual food, meaning the teachings of the Torah, is achieved by the faculty (or sefirah) of understanding."
They break down into:
Carbohydrates which represent the emotive energy of love inherent in understanding.
Fats which are the source of the emotive energy of compassion inherent in understanding.
Proteins which have regulatory functions and also characterize the source of the emotive energy of fear inherent in understanding.
Additional Nutrition Resources for Jewish Seniors
To help create healthy menus for yourself or for your aging loved one, we've pulled together a few resources. These articles can help you figure out everything from how many grams of protein seniors need each day to which foods can help fight inflammation.
Let us help you with any other needs for your aging loved one by calling us at 508.679.6172 today!