That Dreaded Word: Hospice; The fear families experience when hospice is recommended
Details

Published on Friday, 05 April 2013 19:03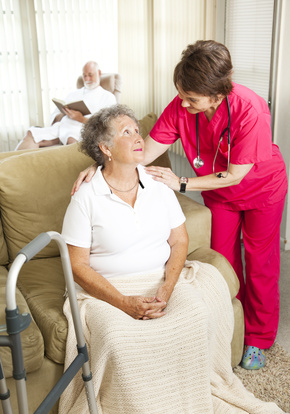 For many families, just the word "hospice" can create anxiety. The old myths about this interdisciplinary benefit are still out there. Caregivers in Massachusetts have probably heard them all: their loved one won't be able to receive any medicine; they will be overmedicated and "out of it"; they will die sooner.
What is hospice care?
According to the National Hospice and Palliative Care Organization (NHPCO), hospice care involves a team-oriented approach to expert medical care, pain management, and emotional and spiritual support expressly tailored to the patient's needs and wishes. Support is provided to the patient's loved ones as well.
At the center of hospice and palliative care is the belief that each of us has the right to die pain-free and with dignity, and that our families will receive the necessary support to allow us to do so.
What support can hospice provide to patients?
Hospice care begins with a plan of care developed for each patient by an interdisciplinary team of professionals. The team consists of physicians, nurses, social workers, chaplains, and bereavements specialists. Many hospice providers also use therapies that range from music and art to massage therapy and reiki.
The interdisciplinary team works to help patients have the best quality of life possible. That means they help with pain and symptom management, as well as emotional and spiritual support.
What does hospice do to help families cope with grief and loss?
Part of the benefit of hospice is to help families come to terms with their impending loss, and then to help them through the bereavement process. They accomplish this in a variety of ways.
One method is with support groups for different kinds of losses. Some examples include support groups for young children who have lost a parent or sibling or for a family who lost a loved one suddenly. Hospice typically follows a family for 13 months after their loss.
They also use a variety of therapies to help the family. Besides counseling, two of the most popular ones are pet therapy and art therapy.
Where is hospice care delivered?
Hospice care is delivered in whatever setting a patient calls home. That might be their home or a loved one's home. It could also be in an assisted living or a nursing home. Individual hospice care centers are also an option.
The NHPCO has an FAQ page (http://www.nhpco.org/i4a/pages/index.cfm?pageid=4642&openpage=4642 on their website) that might be helpful if you are considering hospice care for yourself or for a loved one.
Has your family used hospice for a loved one? What do you recommend to families considering end of life care? Please share.