The Facts about Alzheimer's Disease in 2014
Details

Published on Wednesday, 26 November 2014 17:25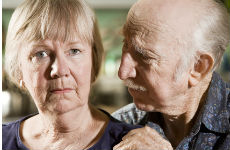 As National Alzheimer's Month draws to a close, we wanted to share a facts about the disease. Despite researchers' best efforts, both a cause and a cure continue to remain a mystery. As a result, there are many questions, myths, and fears about this disease that more than five million Americans live with.
Alzheimer's Disease by the Numbers
According to a survey released in early 2014 by the Alzheimer's Association, the prevalence of the disease by the numbers in this country is:
Estimates are that 5.2 million people in the U.S. have a diagnosis of Alzheimer's.
Someone develops the disease every 67 seconds in this country.
Alzheimer's disease is the 6th leading cause of death in the U.S.
More than 500,000 seniors with the disease die each year.
Alzheimer's related deaths increased by 68% between 2000 and 2010.
Women bear the burden of the disease in several ways
Most notably:
Two-thirds of those living with Alzheimer's disease are women.
A woman's risk of developing Alzheimer's disease is 1 in 6.
Women are 2.5 times more likely to provide around-the-clock care for a loved one living with Alzheimer's.
More than 60% of Alzheimer's caregivers are women.
19% of women who care for a loved one with Alzheimer's have had to quit their jobs.
The Financial Impact of Alzheimer's Disease
The cost of caring for people with Alzheimer's disease in this country is staggering. More money is spent on Alzheimer's care than for any other type of health condition. Estimates suggest these costs will top $214 billion this year. By 2050, that number is expected to climb to $1.2 trillion. Nearly one in every five Medicare dollars is spent providing care for someone with Alzheimer's disease, for a total of $113 billion annually. Medicaid expenditures for dementia care are estimated to be $37 billion a year.
Then there is the value of uncompensated care delivered by family and friends. The 17.7 billion hours of care provided by loved ones is estimated to be worth $220.2 billion.
To learn more about the state of Alzheimer's disease in the U.S., you can download the full Alzheimer's Disease Facts and Figures report.