Alzheimer's Respite Care to Support the Family Caregiver
Details

Published on Wednesday, 05 November 2014 20:18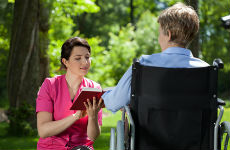 In honor of National Alzheimer's Month, we are taking time this week to share information on the options family caregivers have for holiday respite care. We know the holidays can leave adult children and family members who care for a loved one with Alzheimer's disease feeling stressed and overwhelmed. Respite offers caregivers the gift of time.
Alzheimer's Respite Services for a Senior Loved One
Designed to give caregivers a break, physicians often recommend respite support to their patients who are caring for an aging loved one with Alzheimer's disease. Taking a break from the physical and emotional demands of caring for a person who has Alzheimer's is one of the best ways to provide better care and to protect the health of the caregiver.
There are many types of respite services. Most are considered to be either informal respite or professional respite care. It can be helpful for caregivers to have an informal support network, as well as a few options for professional care. In addition to family and friends, you might also find informal caregiving help from volunteers at your church or a local senior organization. They usually have a list of older adults who are interested in sitting with a senior for a few hours to allow the caregiver to take a break.
Professional caregiver options for respite can include:
An in-home care agency that has experience working with seniors who live with Alzheimer's disease or a related form of dementia.
Adult day programs that have a specialty care program for Alzheimer's patients. These programs typically allow seniors to attend on a part-time or full-time basis.
A senior living community that has a distinct memory care program. Short-term stays typically can be arranged for a few days up to one month. The senior will have the opportunity to take advantage of all of the amenities and activities that permanent residents enjoy.
Having a back-up plan that includes several different types of respite can help you be prepared in case of an emergency. The holidays can provide you with a good time to test those options and determine which ones best meet your needs.
For more information on the options for holiday respite care please call 508.679.6172 or contact us!